a sumptuous feast for all ages
Birthday and Baptismal Fair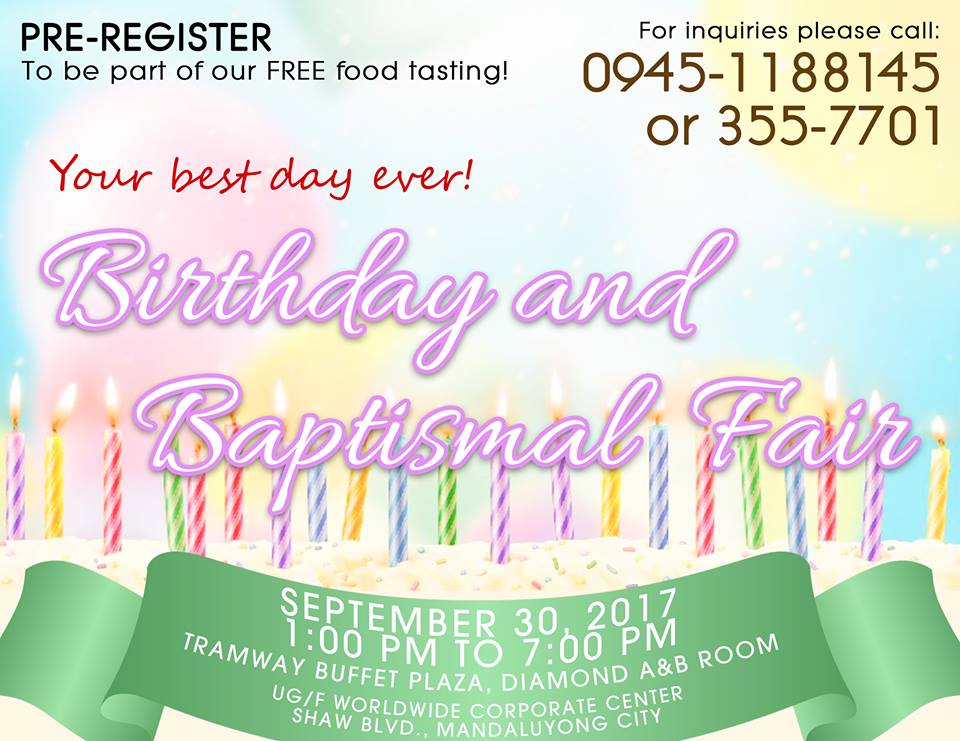 Calling all Mommies, Daddies, Babies and Young at hearts! We invite you to come and attend our first ever Birthday and Baptismal Fair on September 30, 2017, at Tramway Buffet Plaza, UG/F Corporate Center, Shaw Boulevard corner EDSA, Mandaluyong.Our Birthday and Baptismal Fair is open from 1:00 PM- 7:00 PM. Register now for join our FREE Food Tasting!
Call now at 355-7701 or (0945) 118-8145 or send us a message here or you may email us at mktg@tramwaybuffet.com
We will launch our Thematic Events Styling for Birthday and Baptismal and be the first to avail them!
Book us during this one day event to get the following discounts and freebies:
– 10% to 20% DISCOUNT on our Thematic Events Styling with Buffet (depending on the number of pax and package)
– 20% DISCOUNT on Tcafe Cakes and Cupcakes
– A chance to upgrade your event for FREE
– Easier payment terms
– 2 Complimentary Buffet
– Join a raffle to win one of the following: Free rent of Widescreen LCD Projector, Waiver of corkage fees, Free AVP of growing up pictures or souvenirs.
So what are you waiting for? Register now and be part of our Birthday and Baptismal Fair! And enjoy our sumptuous buffet and elegant styling at a very affordable price!!!
Booking Fee is only Php 1,000.00 (to lock the discounted price and your event date).
Hope see you there!